Although they are flock birds, hens will give newcomers a hard time. This is because they have established a 'pecking order', and any newcomer throws their ruthlessly hierarchical system into disarray. It usually takes a week for things to settle down again.
It's best to keep newcomers fenced off from the established birds for the first week, behind chicken fencing where everyone can see and get used to each other. This also acts as a quarantine, in case any of the new birds are harboring illness. Young birds not yet laying will be nervous in their new surroundings, and the added stress of fighting their way into the pecking order may affect their health. You shouldn't leave any bird younger than six weeks to fend for itself in a flock.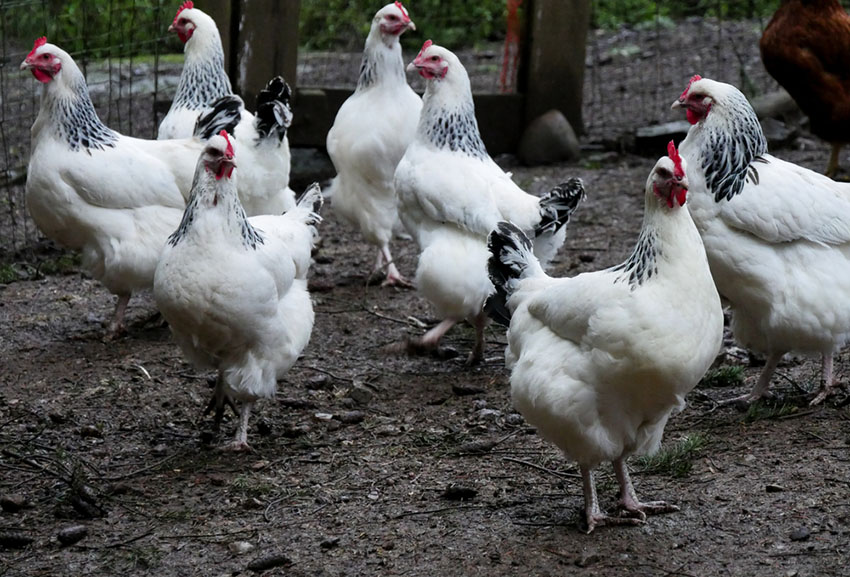 Pecking order is soon established in a chicken run. These Sussex hens know who's boss!
Living side by side, but separated by chicken wire, the birds will work out the pecking order by means that are not always obvious to a human observer. Things like the size and color of the comb – the larger and darker, the more dominant – play a part in this social balancing act.
The best time to mix the birds together after this initial separation is at night, when they will all roost happily together without fuss. Hens are visual birds, and are very docile at night, when they can see little or nothing. In the morning it will, if all goes well, look as though the chickens have lived together all their lives.
If one individual is bullied after all these precautions, keep an eye on her. In 99.9% of cases she will weather the storm, keep her head down, and the pecking order will settle down after another day or two. Any bird who is being pecked and kept away from food, however, will need isolating for a little longer.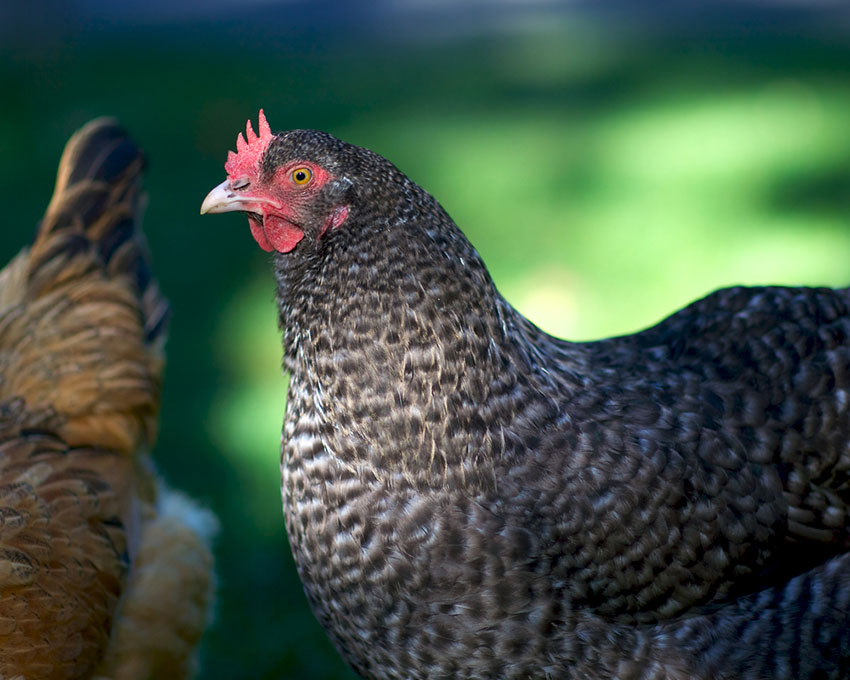 A Maran hen - bully, or bullied? Hopefully neither.
In these situations you can distract the bullies by hanging some tempting chicken food a little out of reach, in a tree or on the wire/fence. The hens will jump to peck at the food. Another good distraction is an ants' nest, or piles of leaves or finely cut grass. The hens will be so intent on scratching and pecking these food sources that they will forget their bullying. Most of the time!
It's also a fact that the bigger your chicken run, the less chance there is of conflict. Fights tend to break out in more confined spaces, whereas free-range hens will simply spread out and avoid going head-to-head.