When a chicken is about a year old she will start to lose her feathers. Don't panic - this is molting, and it happens every year. Molting is a completely harmless process of plumage rejuvenation, and all birds undergo it.
Molting usually occurs in the summer, although a flock does not always molt in unison. They will stop laying for the duration of the molt, and will look messy and balding while the new feathers grow. They may also be more short-tempered than usual.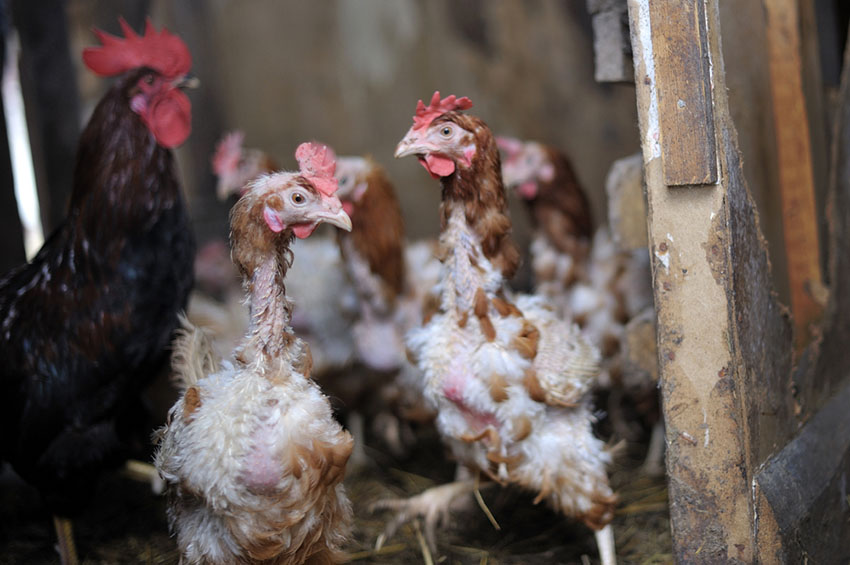 Molting is an annual process, a messy but natural way of keeping feathers in great shape
You don't need to do anything during the molt other than making sure the birds are well fed so that the new feathers grow healthily.
If a hen loses feathers and develops bald patches that linger, with no other sign of a molt, there may be parasites or illness at work. Watch out for unusual behaviour – listlessness or a hunched posture, for example – and if in any doubt about the bird's health, speak with your vet.
Picking
Chickens with bald patches outside the molting season may well be victims of "picking". This is when stressed or angry hens peck at each other, and is nearly always the result of poor environment. Hens need lots of space, and if there's not enough of it they will take out their frustrations by plucking their neighbors' feathers.