The rabbit's digestive system is much more sensitive than ours, so it is wise to stick to a few select foods when deciding what to feed your rabbits. Although this list isn't complete, it gives a good overview of what rabbits can eat.
Basics
Water
Rabbit Salt Lick
Grass (be careful of weeds however, as some can be harmful)
Unlimited Hay
Dry Food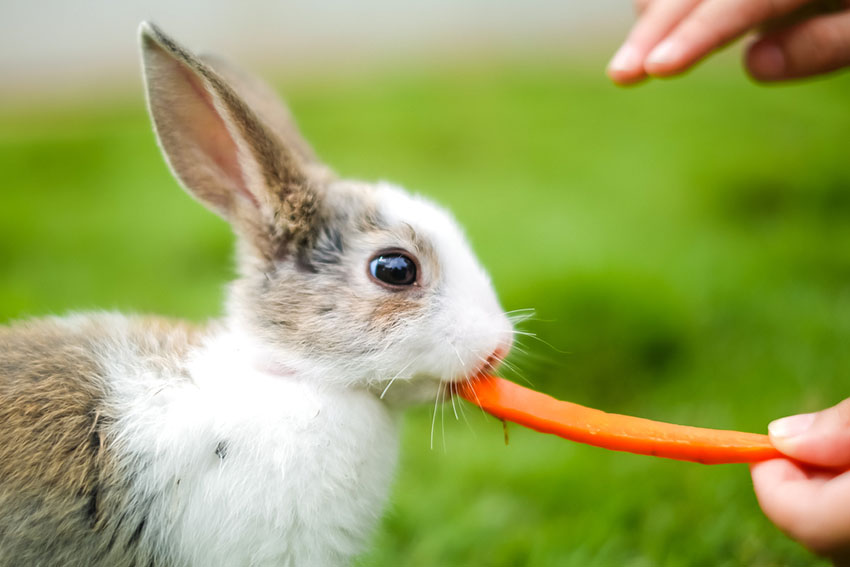 Fresh foods should always be included in a rabbit's diet
Fruits and Veg
Apple (only once or twice a week)
Artichoke
Beetroot
Brussel Sprouts
Carrot (only once or twice a week)
Cauliflower
Celery
Chicory
Kale
Peas
Pea pods
Spinach
Sunflower Seeds
Wild Greens
Note that if you're giving your rabbits wild greens they must not be sprayed with any pesticides, weed killers or fertilizers.
Bindweed
Clover
Dandelion
Knapweed
Plantain
There is a very long list of wild greens that rabbits should avoid, so if you're not 100% certain in your plant identification skills, it is best to stick to the veggies and hay.