Before bringing a puppy or older dog home, choose which part of your home he's going to spend most of his early days and nights in.
Dogs like somewhere warm, comfortable, calm and safe. A dog crate is a good idea, as it offers all these things, and can be moved around the house in the early days so that the dog is not left alone. A crate can also be an effective tool for training.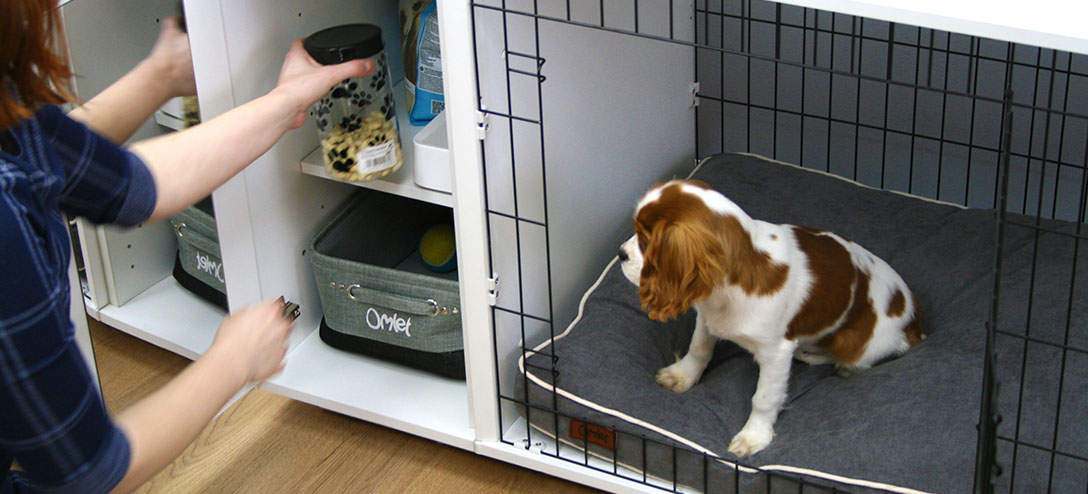 Omlet Fido Studio - use the wardrobe to keep puppy training treats tidy
Omlet offers dog crates for the home as well as more portable options, that you can use to take your friend to work with you (provided your work is dog-friendly!).
No dog space is complete without a nice soft bed (and this can be put in the crate, if that's the practical thing to do). They also need constant access to fresh, clean water in a bowl. A favorite toy can be a great comfort to dogs when you're not around, too.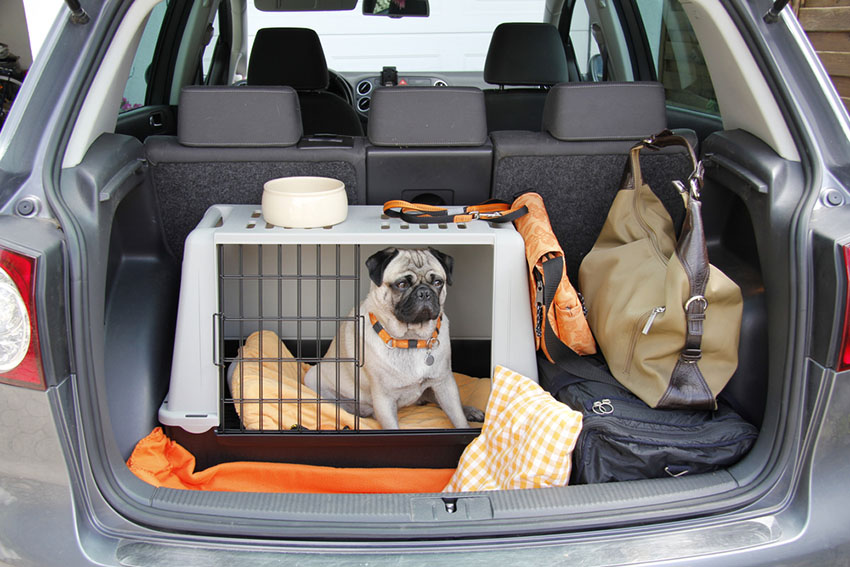 Time to settle in this Pug after his car journey
Settling a New Puppy In
When your new dog first arrives, make him feel comfortable by offering a bowl of food and some water. Put any bedding or material you've brought from the pup's mom into the crate or the cosy corner where his bed is. If it smells like home to the dog, you're half way to settling him in.
Integrate your new dog into the whole family as much as possible, allowing them time to explore their new surroundings and quietly become familiar with all the different smells and sounds of a new home.
The more affection your puppy receives the quicker he will settle in. It's best if everyone in the house spends time with the dog, so that he doesn't become attached to just one person.
Reassure the puppy when he barks or looks scared. Everyday things like the mail van, the neighbor's car door slamming, the barking of a neighborhood dog, or the gurgle of the central heating, will all make the dog inquisitive, or even anxious or angry, in the early days. Reassuring noises from you will make him realize it's nothing to get upset about.
Your new dog will miss his previous family, and when left alone at night might get upset. It's okay to allow your puppy to sleep in your bedroom for the first few nights – on his own bed or in the crate, ideally. As soon as he begins to settle, establish him in his allotted spot in the house. If that's going to be your bedroom, fine – but bear in mind that once he's established there he won't ever want to sleep anywhere else!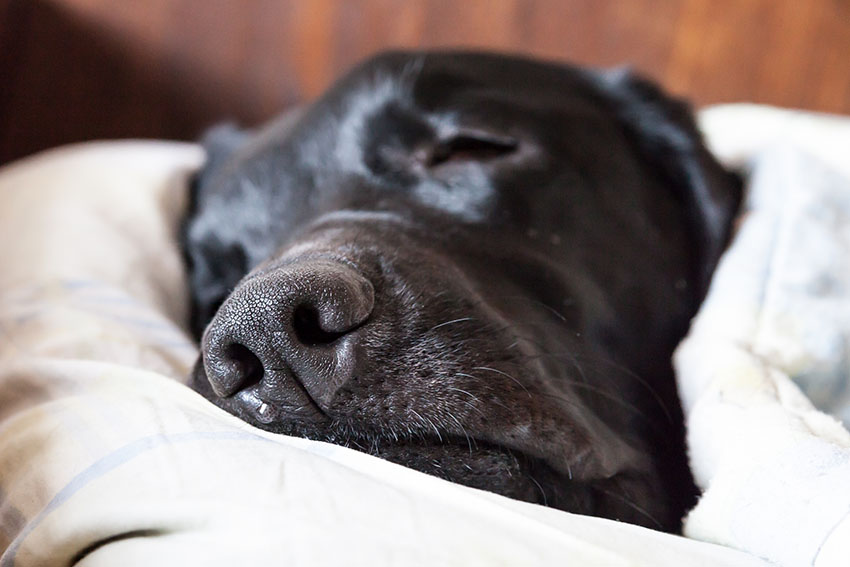 Settling a new dog down at night isn't always as easy as this cheeky photo might suggest!
Getting A New Puppy To Settle At Night
If you're trying to encourage your pup to sleep alone, be gentle but firm. Reassure him by speaking to him softly. Take him for a walk before bed time to tire him out. Place a hot water bottle filled with warm water under the dog bed. This can make the pup more relaxed as it simulates their mother's warmth, but only fill it with warm water otherwise you could risk burning your dog. You need to make sure it's a tough, chew-resistant model.
If you already have another dog, it's a good idea to separate them for the first few nights in case they fall out.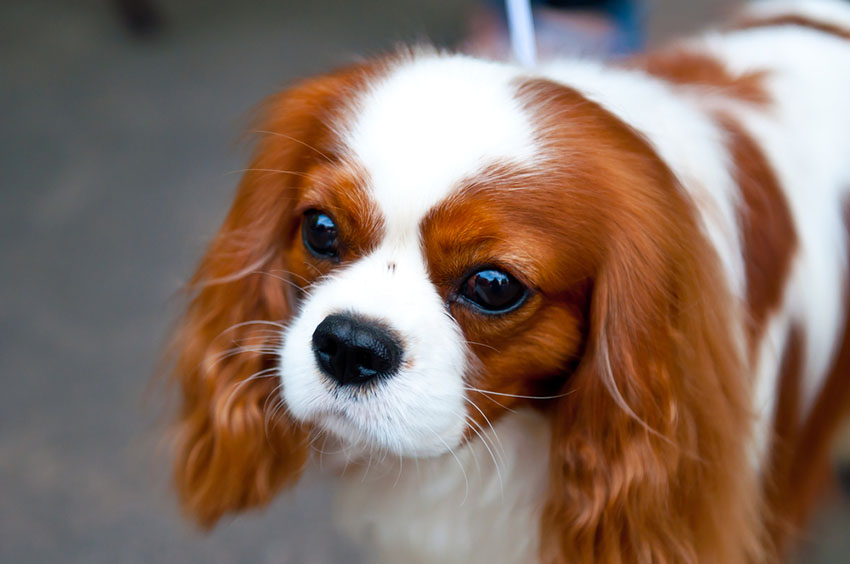 A Cavalier King Charles Spaniel, like all dogs, needs a routine to give his day shape and meaning
Establishing a Routine With Your New Puppy
Dogs find assurance in routine (even if you don't!). Set a feeding time and a time for walks – even if that's just a breath of fresh air in the early days. Once you've decided on the feeding routine, make sure you stick to it.
Take Your New Dog To The Vet
Make your vet aware of the fact that you are getting a dog and arrange an appointment for a health evaluation as soon as you bring your new dog or puppy home. This trip to the vet's is the perfect opportunity to get your pet used to traveling in a car. It will also put your mind at rest regarding the puppy's health, and will enable you to book in time for any inoculations.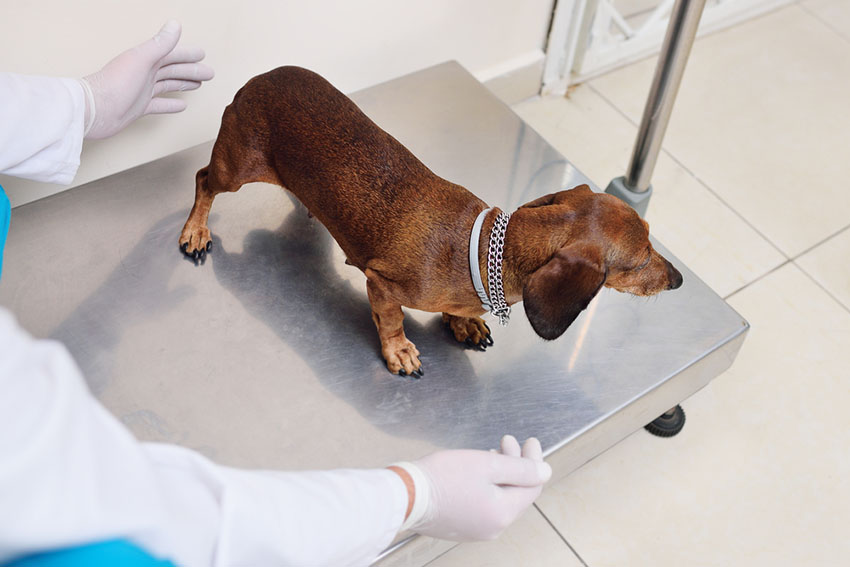 This Dachshund is going through routine checks at the vet's
Bringing Home An Adopted Dog
The key to settling in a rescue dog is time.
If your dog is from a shelter he may have been through a lot of stress before you came along. Being adopted by a new family or owner is a lot to handle for a dog, so try and offer a very comforting and relaxed environment.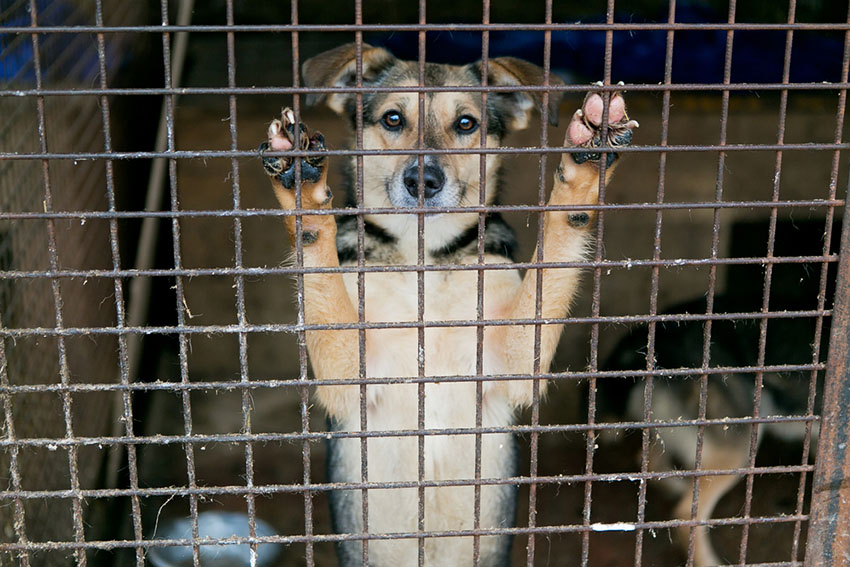 He's made the move from this dog shelter to your home - the rest is up to you
If you have children it is essential that you allow them to meet the rescue dog before you bring him home. This way you can tell if the rescue dog is child-friendly. The same applies to other dogs you might have – sometimes our canine friends simply don't like each other, and it's better to find that out before the newbie arrives home.
Once you arrive home with your rescue dog, allow him to explore his new home and take him for frequent short walks outside so he gets familiar with the many fascinating smells of his new neighborhood.