Short hair means anything less than an inch. These dogs do not require extra grooming or drying – their coats look after themselves. This "What you see is what you get" style shows off their great shape and big muscles. They have enough coat to keep them warm, but are in little danger of overheating.
The Teddy Roosevelt Terrier is a relatively rare short-haired breed
Short-haired dogs will still enjoy the occasional encounter with a dog brush – it's a kind of doggy massage for them – and they will still need the occasional bath. The hair might be short, but the dog will still become dirty and smelly over time!
Dog breeds with this kind of coat include American Foxhound, Basenji, Basset Hound, Beagle, Belgian Malinois, Bloodhound, Boxer, Bull Terrier, Bullmastiff, Dachshund, Dalmatian, English Bulldog, English Foxhound, French Bulldog, Great Dane, Greyhound, Russell Terrier, Pharaoh Hound, Pug, Rhodesian Ridgeback, Rottweiler, Smooth Fox Terrier, and Whippet.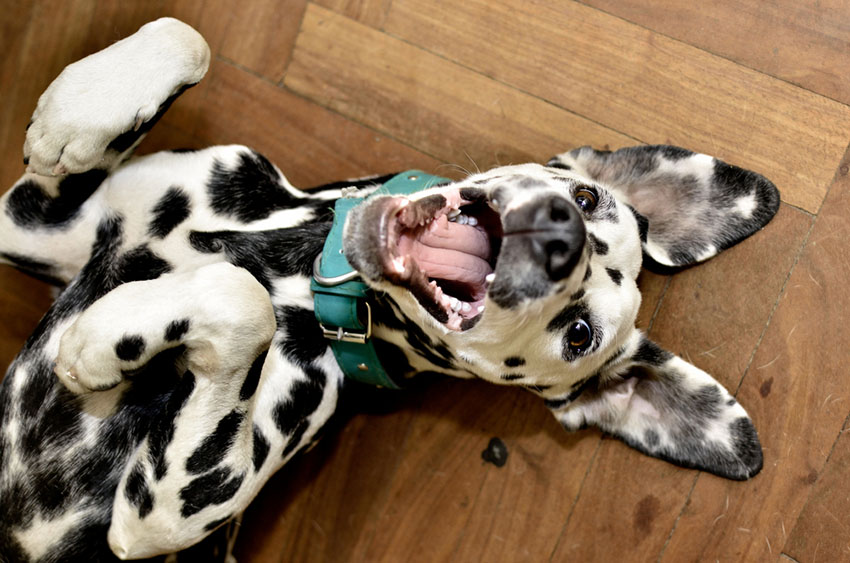 The Dalmatian is one of the most famous of the short-haired dog breeds
Dogs with Medium Length Coats
Like short-haired dogs, the coats of these breeds are low maintenance. By definition, dogs in this bracket have a coat longer than an inch, but no more than two inches. They require the occasional grooming session, no more than once a week, as they tend not to get matted.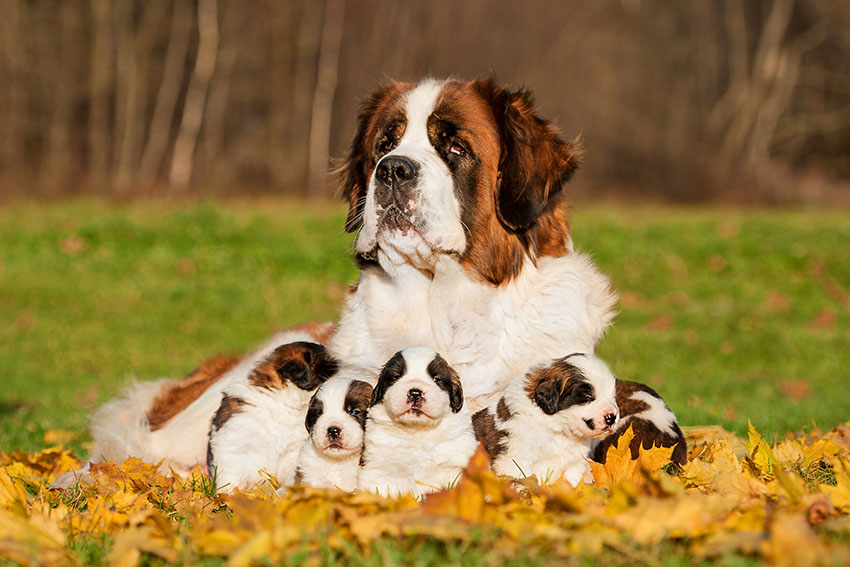 This Saint Bernard and her puppies are modelling the latest doggie fashion in medium-length coats... it's a dog walk rather than a catwalk!
A bath once a month is usually enough, unless they've rolled in the dirt too enthusiastically. Breeds in this category include Akita, Australian Shepherd Dog, Border Collie, Brittany, Cavalier King Charles Spaniel, German Shepherd, Pyrenean Mountain Dog, and Saint Bernard.
Like short-haired breeds, they are not likely to overheat in normal summer weather.