Havana Rabbits
Havana History
---
Havana rabbits were developed at the end of the 19th century. The breed is the result of a litter born to two non-pedigree rabbits. Some of the rabbits in this litter had a rich dark brown colour which at the time was very unusual. These kits were crossed with himalayans and the resulting offspring was crossed back with the original brown buck.
The Havana gets it name due to the colour of its fur. It was named after the capital of Cuba, due to the brown colour being the same colour as a cuban cigar.
This breed was exported to Germany in 1907, and reached britain a year later in 1908. They were exported to America in 1916. This breed was sought after by the fur trade due to its unique colour.
Havana rabbits have a stocky build and weigh between 2.5 and 4kg.
Havana Behaviour
---
These rabbits are suitable as pets as they are friendly, lively and attentive without being nervous. Some rabbits from certain lines can be a bit more difficult, so when considering this breed make sure you research the lineage.
Havana Varieties
---
Chocolate, blue, black, and broken.
Havana Status
---
Common
Havana Pictures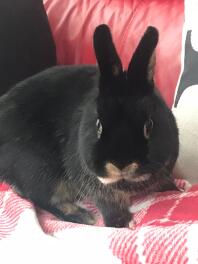 Havana For Sale
---
Please note: All animals listed here are for collection only. They cannot be delivered by the seller or by Omlet. The seller will send you their contact details to arrange payment and collection.
Latest Reviews For Havana
---
There are not yet any reviews for this breed. Click
here
to write one.