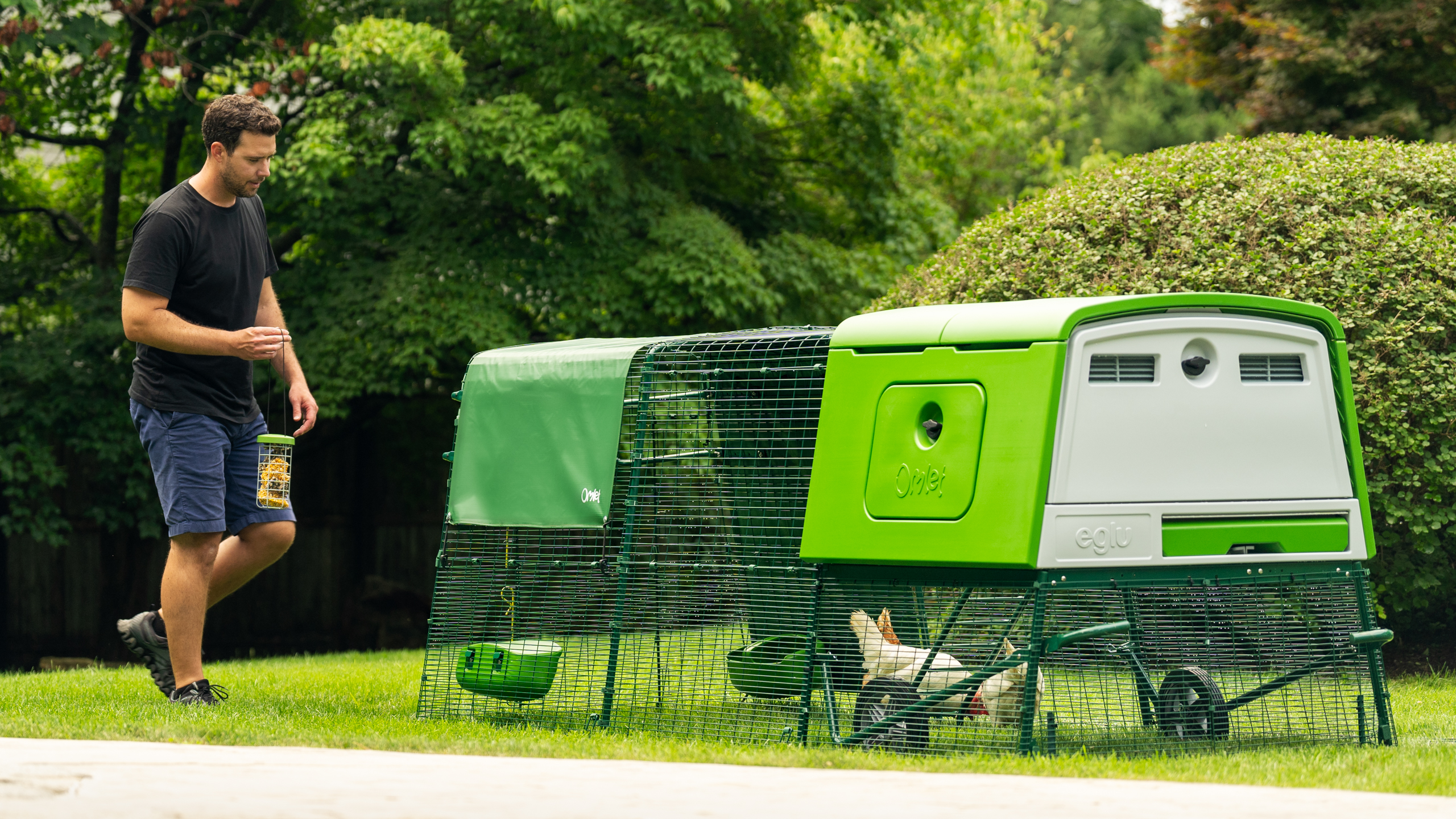 No matter your flock's size, chicken predators will be lured in by the sight, smell, and sounds of your hens. Predators that prey on chickens come in all shapes and sizes, so it's important to know which are most prevalent in your area, and how to prevent potential heartbreak of losing your hens to these unwelcome visitors.
Raccoons
Raccoons are one of the most common predators to chickens. And, they can be found in almost every part of the US.
Popular terriroties
Raccoons can be found almost anywhere in the US, with the exception of: Nevada, Utah, Arizona, and in small portions of the Rocky Mountains. Traditionally, raccoons inhabit tree hollows or burrows along riverbanks, but can now be found living in a variety of habitats. In urban areas, they'll happily take up residence in an attic, under a shed or in abandoned structures. Rural areas offer a multitude of options for raccoons to make their homes in – from forests, riverbanks, or wooded areas, to barns or other outbuildings.
Why raccoons are a threat to chickens
Raccoons will readily feast on your flock or their eggs. They're notorious for using their dexterous paws to reach through gaps or open coop doors. They're also strong and persistent, known to tear hardware cloth or break wooden chicken coops. Often, raccoons will reach through the wire of chicken runs and grab hens – killing them in the process.
Signs of a raccoon or a raccoon attack
Raccoons leave pawprints that are hand-like in appearance. Their thumbs aren't opposable like humans, but they are long and allow them to grip well. You may also find scratches or gnaw marks along wooden coops, torn hardware cloth, or other signs of an attempted forced entry. Racoons may turn over garbage cans or feed bins in an effort to open them. If they're successful in entering the coop, they'll likely leave mass carnage behind, leaving mutilated chicken bodies in their wake. If they breach the chicken run by reaching through, it's common to find beheaded chickens along the edge of the run.
How to prevent raccoons from breaking into the coop
Reinforce any weak areas of the coop or run, and make sure there are no gaps large enough for a raccoon's paws to fit through. Use a raccoon-resistant lock on the chicken coop. Keep chicken feed or other animal feed in airtight containers with locks to prevent attracting raccoons. Keep garbage cans or compost piles far away from your coop to further deter drawing attention to your flock.
The Eglu Cube has raccoon-specific safety mechanisms, which prevents owners from having to make modifications. The tighter mesh of the bottom run panels prevents paws from reaching through, and unique t-lock handles are easy for human hands to open, but resist opening attempts from raccoons.
Foxes
Foxes are common, crafty chicken predators that are found in nearly every US state. Their lithe bodies make them quiet, but powerful chicken predators.
Popular terriroties
There are 4 different species of foxes that inhabit North America, but the most commonly encountered in the US are the red and gray foxes. Their territory spans the majority of the US, with one or both varieties being found in every state. Both gray and red foxes can be found in cities or urban areas, making their homes in virtually any vacant cavity. In ideal habitats, red foxes thrive in a mixture of forests and open fields, while gray foxes prefer wooded areas.
Why foxes are a threat to chickens
Foxes are crafty and cunning, able to sneak up on their prey in virtual silence. They're quick when they attack, and are very intelligent. They prefer live prey and have wide hunting areas that they will patrol. Foxes are most active at dawn and dusk, which corresponds with most chickens' rise and roost schedules.
Signs of a fox attack
Foxes have paws similar to those of dogs, but more slender. They often travel at a steady jog, making their paw prints appear in a line. Foxes are excellent at excavating, so you may see attempts at digging into your chickens' run or under their coop. It helps to have a chicken tractor where foxes are abundant so that you can easily move your flock's home to another location while you fill in holes dug by these predators.
How to prevent foxes from breaking into the coop
It's important to have anti-dig skirting along the entirety of your flock's setup. The skirting should extend at least 4 inches past the base of the run and at a 90-degree angle, flush with the ground. Anchor the skirting securely into the ground with screw pegs for your chicken coop to prevent shifting or lifting.
Wolves
Wolves aren't the most common chicken predator, but they are among some of the smartest and lethal. These patient, intelligent hunters can make quick work of a coop of chickens.
Popular terriroties
Gray wolves, also known as timber wolves, are most common in the northern part of the US. Their cousins, the Mexican gray wolf, have been reintroduced into the south, but still remain endangered. The states and areas most likely to see wolves are:
Alaska
Northern Michigan
Northern Wisconsin
Western Montana
Northern Idaho
Northeast Oregon
Yellowstone area of Wyoming
Why wolves are a threat to chickens
Wolves are incredibly intelligent, and hunt in packs. It's not uncommon for a pack of wolves to take down grown deer and elk. Wolves have a keen sense of hearing and smell, and patrol wide territories of hunting grounds. Adult wolves can eat up to 20 lbs of meat in a single meal to satiate their appetite. While they prefer larger prey, wolves will not hesitate to attack a flock of chickens for an easy meal.
Signs of a wolf or wolf attack
Wolves are large – with females weighing 60-100 lbs and males between 75-145 lbs. Their pawprints are distinctly canine, so it can be hard to distinguish between their prints and those of domesticated dogs. Since they travel and hunt in packs, you'll likely see several sets of prints. Contrary to popular belief, they don't howl at the moon, but you may hear their trademark sound when they're communicating during a hunt. Unless you have a strong, welded steel chicken run, it's likely that wolves will be successful in trying to break into your flock's setup, and there won't be much evidence of an attempted break-in. Missing chickens (likely the entire flock) will be the only evidence of a wolf attack.
How to prevent wolves from breaking into the coop
Motion-activated lights or alarms may help deter wolves from coming onto your property, but the best way to prevent a wolf attack is by providing a strong chicken coop and run for your flock. Weaker chicken coops or runs made from hardware cloth and staples are no match for these large predators.
Coyotes
Coyotes are known to decimate flocks of free-ranging chickens, but will try to invade coops for a quick meal. Their range spans all across the US.
Popular terriroties
Coyotes are also known as prairie wolves. As their name suggests, they prefer to inhabit prairies and grasslands, but have expanded their territory widely over recent decades. Coyotes can now be found all across the US, in both rural and urban settings. They've adapted to urban living very well, and it's not uncommon for them to be seen roaming neighborhood streets. This means protecting your chickens from coyotes is essential, since their range makes it likely that your flock will encounter them.
Why coyotes are a threat to chickens
Coyotes are fierce hunters, and are large enough to break into weaker chicken coops and runs. They're also fast – reaching running speeds of up to 40 miles per hour. Coyotes also have an impressive vertical jump – able to leap 6-foot fences in a single bound. This enables them to hop over privacy fences or other boundaries that may be keeping your flock contained.
Signs of a coyote or coyote attack
Coyotes live in family groups, similar to wolf packs. But, they prefer to hunt alone or occasionally in pairs. If a coyote is unsuccessful in breaking into your chickens' coop or run, you'll likely find digging or scratch marks, and gnawing along the structures. You may also see bending from wires being pushed or pulled. Coyotes leave tracks similar to domesticated dogs, with their average size being between 25-35 lbs. They make distinct yipping and barking noises that sometimes precede an attack.
How to prevent coyotes from breaking into the coop
Some flock raisers have found that motion-activated lights or alarms are enough to deter coyotes. But, as they become accustomed to these, they will push their boundaries further. The best way to protect your hens from coyotes is to have a strong, fully enclosed chicken run with anti-dig skirting.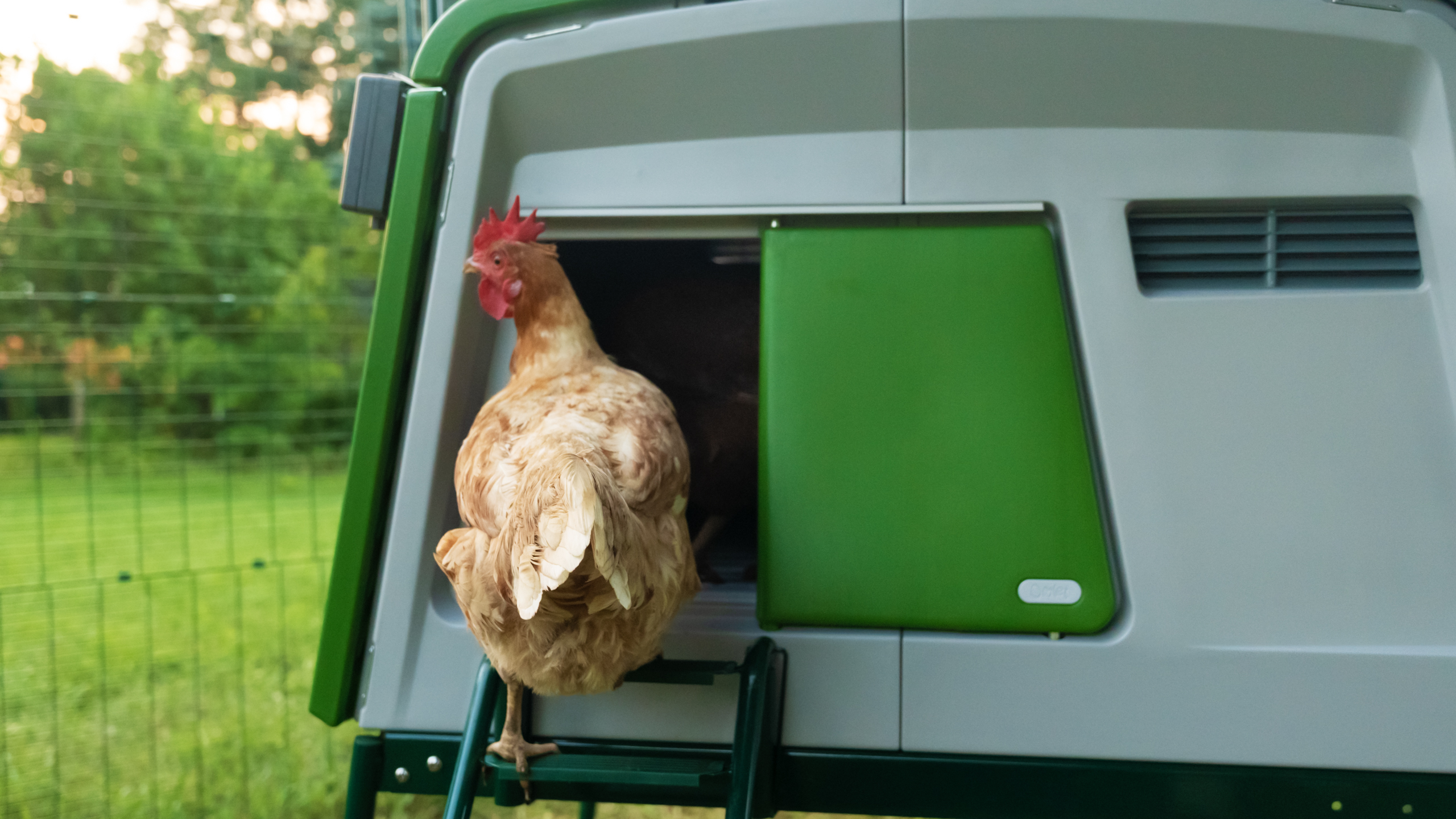 Shut predators out with the Omlet Autodoor.
Wild cats
Wild cats encompass a variety of species. These animals are powerful, stealthy, and widespread across the US.
Popular terriroties
There are many species of wild cats in the US, including:
Bobcats
Mountain Lions (also known as Cougars or Pumas)
Lynx
Ocelots
Jaguars