As long as choose a hardy breed - and most of them are - chickens don't mind the cold at all. However, they prefer not to get wet, so it's a good idea to provide bit of extra protection with a cover for the coop, or somewhere dry for the hens to huddle. A good tip to prevent the area under the run becoming muddy is to cover the ground with bark chippings.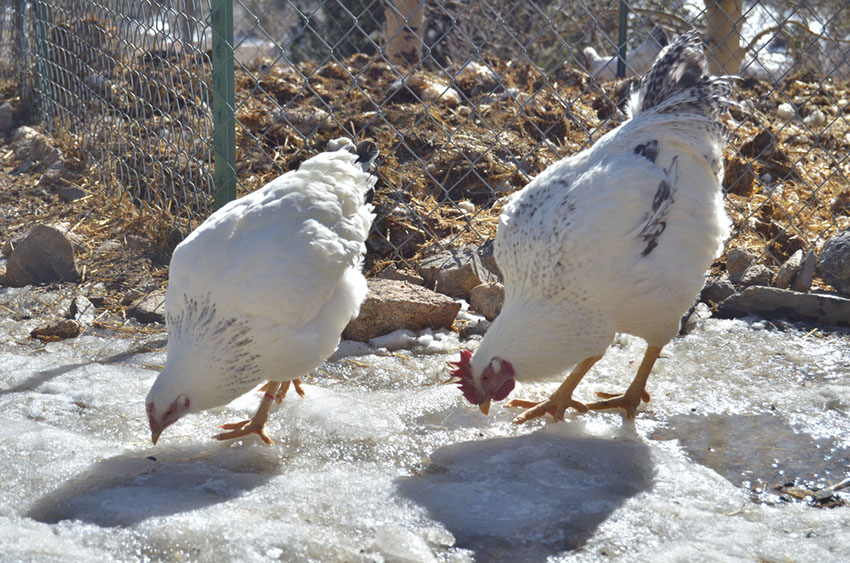 Delaware hens in snow - not afraid of a spot of winter weather!
Check water regularly for freezing and use an old string bag to hang greenery in the run for the chickens to peck at. You will get far fewer eggs in the winter because of the shorter days, but the supply will not usually be cut off completely.
Keeping Hens Healthy in Winter
Unless the winter in your area is very harsh, your chickens will be able to keep warm by snuggling up in the coop. They are hardy birds (with the exception of some of the more delicate, decorative breeds), and will adapt to the climate. A heated coop will actually make them less hardy, as their bodies will not acclimatise to the drop in temperature as fall gives way to winter.
If you live in a cold climate, the following precautions will help ensure a happy free-range flock:
Protect combs and wattles from frostbite with petroleum jelly or an equivalent product.


Keep the water supply clear of ice, by breaking the ice layer and removing the ice shards, or replacing a completely frozen supply. Check the water at least twice a day to keep it free of ice. If you know the water is liable to freeze, bring the containers indoors at night, or, if possible, buy a water heater designed for the job of preventing freezing.
Best Chicken Breeds for Cold Winters
Most breeds are hardy, but dainty bantams will suffer in the cold; and if you live up in Alaska, they're in for some serious winter weather! The best breeds to weather the cold include:
Ameraucana
Asil (aka Aseel)
Buckeye
Chantecler
Cubalaya
Dominique (aka Plymouth Barred)
Easter Eggers
Favaucana
Golden Buff
Hamburgh (aka Holland Fowl)
Java
Naked Neck (aka Turken)
Olive Egger
Redcap (aka Derbyshire Redcap)
Russian Orloff
Star (aka Red star)
Check out our top tips for keeping your chickens warm in the winter.