Parakeets spend most of the day and night perching, whether they're sleeping, singing, eating, playing, courting, or just chilling. One perch is not enough, as they love flapping and climbing from to another. So, it's important to give them good perches, with a variety of textures.
Even a small cage should have at least two perches, positioned at different levels. A parakeet swing counts as a perch.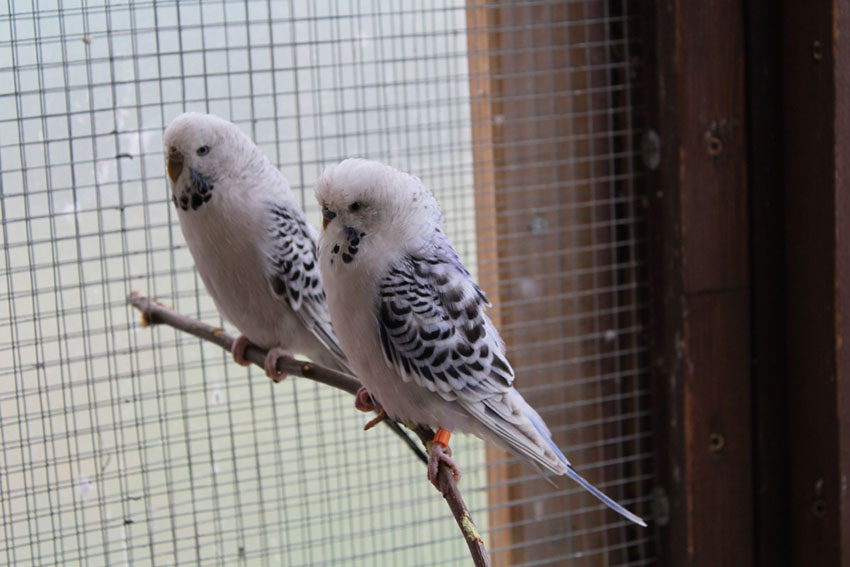 Pet parakeets like to perch 24/7
Parakeet Perch Size
Try to vary perch sizes. The best ones are thin branches, trimmed and inserted horizontally across the cage bars – simple, and free! They should not be more than half an inch in diameter (although in a larger cage you can have any thickness, as long as you include ones between a quarter and half an inch diameter).
Parakeet Perch Types
Rough texture is good, so avoid fitting the cage with nothing but smooth, rounded perches. A perch of twisted twigs is a good option, or a simple non-toxic stick. The bird will love chewing at the wood, and the rough surface is good for gripping. Plastic perches in interesting shapes are fine too.
Scrub the stick-perch first using warm water and a vegetable brush. Pouring boiling water over the stick will kill any microscopic nasties.
The twig-perch will eventually need replacing (usually because the parakeet has chewed through it). The birds may be a little wary of a new perch at first – although parakeets like things to be changed around for variety, they often take time getting used to the change!