If provided with enough space in a suitable corner of your home, parakeets will settle in very quickly. However, as with any new residence, there are neighbours to consider. Some of your other household pets may take an interest in your birds, and not all of them with innocent intentions. The same may apply to any small children who happen to be interacting with your birds.
The number one rule, no matter what animal is lurking outside, is to make sure that your parakeet is secure. The cage needs to be out of reach and safe from dexterous fingers and paws. Hiding your new birds from your other pets isn't a great idea. Your prets will know that there is a new member of the household and will put it upon themselves to find them at all costs.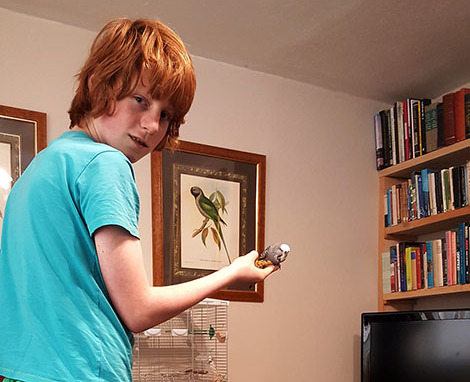 Once he trusts you, your parakeet will become tame very quickly
Parakeets Home Alone
If you forget to replenish your bird's food or water for a day, don't worry, your bird won't keel over and die. Infact, you'd be very unlucky to encounter any problems if you forgot to provide these things for a couple days..
Leaving them for more than a day, however, is pushing it. The main issues are food and water. A single parakeet or a pair of the birds may run their food sources dry within 48 hours, it all depends on the cage set-up however. A seed-hopper replenishes the food as the birds feed; but it can become blocked due to a damp patch. Water can become contaminated with droppings. If you do happen to keep several birds in a cage or an aviary, you probably can't run the risk of leaving them for this amount of time. You can't know for sure how much they eat, you may be putting out fresh food each day, but can't know if this will last for 2 full days.
There are a few other reasons you can't leave indoor birds alone. For example, you may cover your birds with a blanket at night, or they may rely on the opening of curtains to determine what time of day it is. A bird living on it's own will very soon be craving attention, as they are very sociable birds.
Parakeet Vacation Care
If you're away for more than a single day, you should get someone to feed your birds. This could be a friend or family member, perhaps even a neighbour.
If you keep just a single parakeet, you may want to send your bird off on a small holiday to a trusted person's house, as they will get too lonely in a deserted house..
There are also small animal boarding houses that specialise in birds -- you'll need to check your local phone or business directory to find out where they are.