The step-up is a very satisfying interaction, and very useful to get your bird back to their cage if they need to be. It involves calling your parakeet, so choose a distinct word or whistle that you don't use elsewhere in conversations with them. It could even be something simple as "come" or "fly". Try not to use the birds name, as this could confuse things.
With the budgerigar perched on one finger, offer the index finger of your other hand, as you did in the "step-up" mentioned before. This time, keep a larger gap between your two fingers, so that the bird has to fly or flutter from one "perch" to the other. As you position the second finger, keep repeating your chosen word or whistle. If your bird doesn't seem to know what to do, gentl;ey push your finger against their stomach and move the finger away again, eventually your bird should get the jist of it.When they do eventually make the leap, offer a small treat to them. If millet is involved then your bird will be a keen student.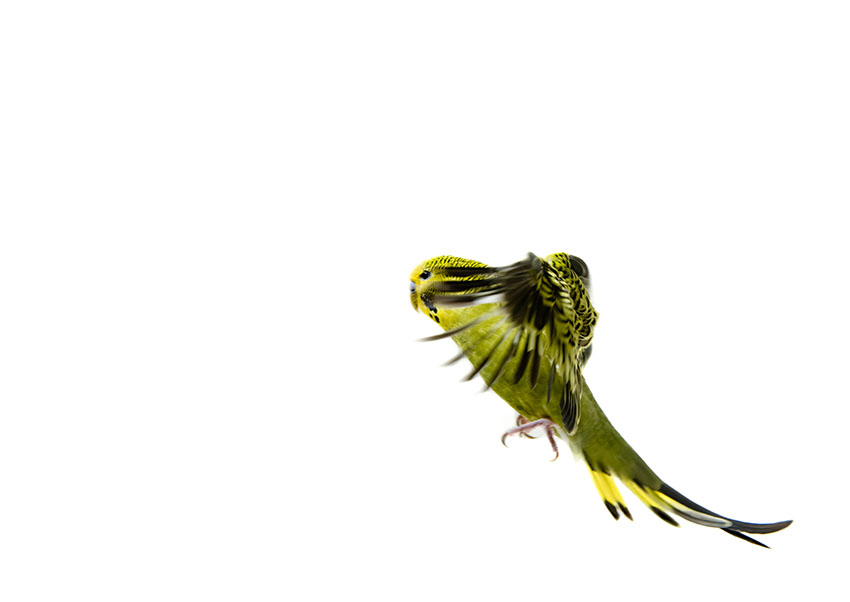 Parakeet in flight
As you progress, increase the distance between the two fingers, so that the parakeet actually has to fly rather than just flap-hop. Keep repeating your chosen word as you're doing this. Once they've cracked this, try calling your bird from a perch that isn't your other finger. Again, start of by placing your finger near the bird, and increase the distance each time.
At this point you should be able to raise your finger-perch, say the command, and your bird should come flying. Eventually they should do this without the enticement of a treat, and will happily use your head or shoulders rather than your finger.