A mirror moves about and taps your parakeet on the beak as he pecks at it, giving the impression of another companion in the cage. If you only keep a single bird then a mirror is a must have for when your parakeet craves some of that bird-on-bird quality time.
However – and it's a rather big "however" - it's always best to keep parakeets in pairs, whether a mirror is involved or not. Nothing can fully replace a flesh-and-blood companion bird. Once there are two or more parakeets in the cage, a mirror will do no harm. In Fact it will give the illusion of there being more birds in the cage, and that's a good thing.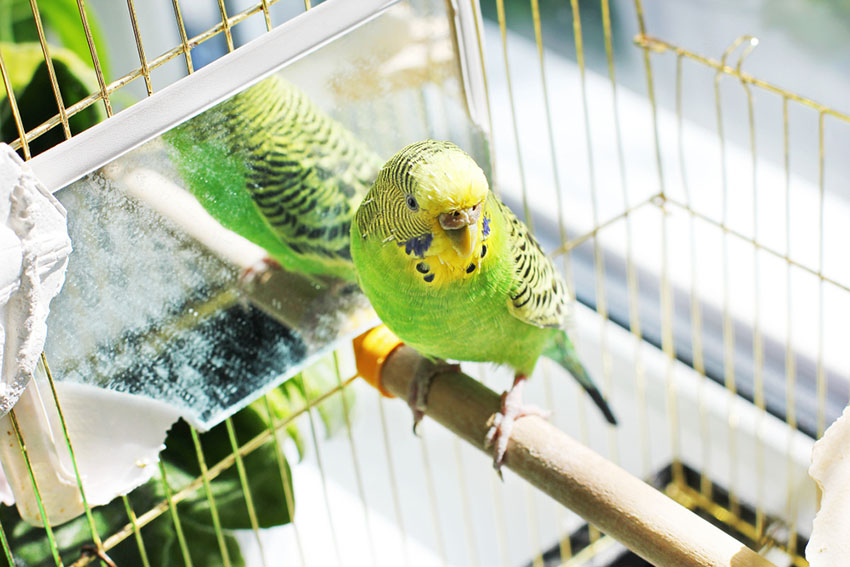 Love at first sight - parakeets form friendships with their reflection
In a cage of two or more birds, the one in the mirror won't receive nearly as much attention (unless you happen to have a very timid parakeet who takes a liking to his quiet mirror-friend). If you have just one bird, then the mirror becomes the chief companion. Your parakeet will talk to it, click beaks with it and even attack it when it gets angry. If his head feathers are raised when he taps the mirror with his beak then he is flirting.
Parakeet Attacking Mirror
Much like people, parakeets tend to go through several moods over the course of one day. Sometimes they will be in a slightly aggressive mood and want to push and shove his companions about a bit. A lone bird has no outlet other than his toys, and the mirror usually tends to get most of the aggressive attention. This is normal, as disagreements with other birds are a standard part of a parakeet's life -- but if you feel that your bird is spending an abnormally large amount of time attacking his mirror, you should take it as an enormous hint to get another bird. ThIs aggression is most likely fueled by the need for more socialisation.
If the male bird of a mating pair is constantly agitated by the handsome, silent rival in the mirror, then you should remove it. After all, three's a crowd.
Parakeet Feeding Mirror
A parakeet who begins to regurgitate seed to his reflection is well advanced in the budgerigar mating ritual. He thinks that the reflection is his mate, and he's trying to feed her. If this happens once or twice then it's nothing to worry about, however, if your bird keeps doing this, then it's a sign that you should invest in a partner for him.
If you notice that your bird is getting into the habit of regurgitating throwing up his seed for the benefit of his "mate" in the mirror, it's best to get rid of the mirror altogether. This might seem mean at first, with constant regurgitation there is a danger of throat irritation. The parakeet will regurgitate the seed, and when the mate in the mirror inevitably fails to accept it, he will eat the seed and repeat the process. The seed has digestive fluid in it, and if this is swallowed several times, it will irritate the birds throat, tongue and crop.