Fresh parakeet food should be stored in the fridge or fruit bowl. Anything from the fridge should be removed for at least an hour before feeding, though, as over-chilled food can irritate a parakeet's tongue and throat.
Dry seed and grain should be stored in a cool, dark, dry place, in airtight containers. If you only have a pair of birds – or even a single bird – a small box of food is all you need.
For larger quantities of seed, a plastic box or bin with a tight lid is what you need. If using clear plastic, or glass, it needs to be kept in a dark cupboard or cellar, as the light will spoil the seed.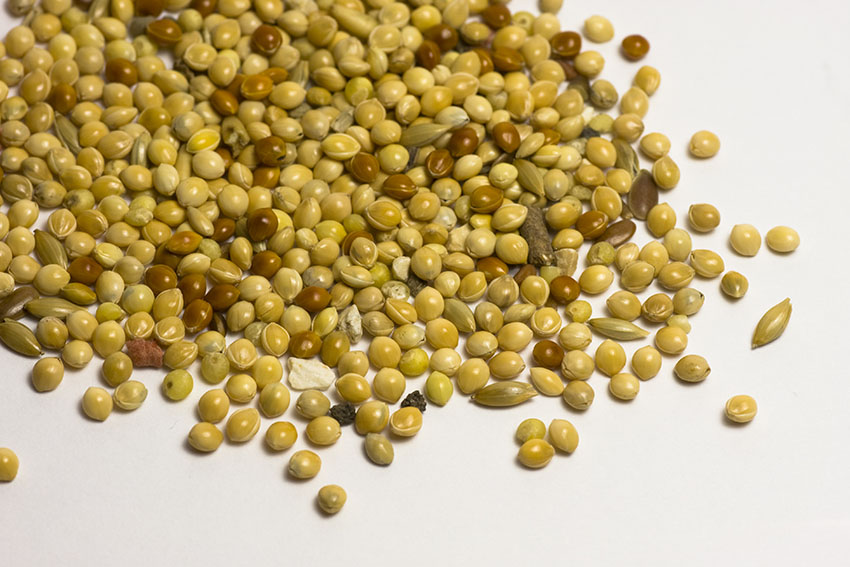 Good quality birdseed is is the basis of a healthy parakeet's diet
Seed and grain mixes, suitably stored, will stay fresh for up to six months. Any longer than that and a lot of the vitamins and nutrients will have disappeared. Locking the goodness in by freezing solves the problem, but creates new ones. After defrosting, the seeds will be moist, and this can lead to fungal and bacterial growths, which can make your parakeet ill. The best option is to avoid buying in bulk – that way your seed will not become old and leached of its goodness.
As mentioned above, if your seeds become damp, mildew can spread quickly. Any sign of a white dust on the dry seed, or a mushroomy odor, means that mold has spoiled the batch. It will have to be thrown away, and a drier storage space will be required for future batches.
Check parakeet containers regularly for parasites, even if you only store small amounts.