For most people, millet is the go-to feed for their birds. The commonest varieties are white millet and the slightly more expensive red millet. The difference between the two is that red millet has tougher husks. Despite this they are actually both the same species. Panicum miliaceum. This species is sometimes called Proso millet. Foxtail millet (Setaria italica) and Japanese millet (Echinochloa frumentacea) are also available as parakeet food.
Parakeets love the stuff. However, because of its high fat content, millet should be treated with caution.
Parakeet Millet Spray
A good seed mixture will have an adequate amount of millet, but the food is also commonly offered on-the-twig, which are called sprays. This stuff is great for finger-training your bird (see section "Finger Training Your Parakeet" below), and for occasional snacks. However if you fill your birds cage with this stuff too often, they'll fill themselves up on this and ignore the rest of their nutritious foodstuffs elsewhere in the cage.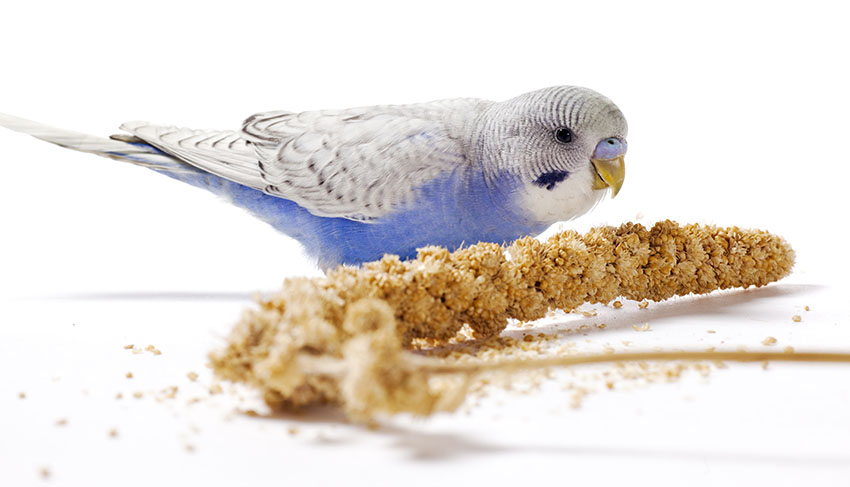 Millet is a parakeet favorite
AAs with all other seed supplies, it is important to make sure that your millet sprays are free from pesticides and other chemicals. Most of the time, if a product is much cheaper than others, it is a sign that it has been imported from a mass producer, and mass produce is associated with the use of these spray-on chemicals.
Parakeet Millet Addiction
Some owners find that their parakeets have become addicted to millet. This is a sign that they have been making the stuff too readily available, and the birds have been turned into "millet junkies!" If you happen to find yourself in this position, you must wean your birds off the stuff slowly. Reduce the amount of millet sprays you put in their cage for the first few days. Later in the week you can get remove it altogether.
Parakeet Millet Treat
Once you accept that millet is a special treat, you can add it to the list of goodies that you give to your birds from time to time. Fasten the woody end of the spray to the cage bars, or perhaps hang it from the roof. This will make your birds have to work a bit harder to get at the good stuff, and you can rest easily knowing that they're burning off some of that fat and not adding to their waistlines.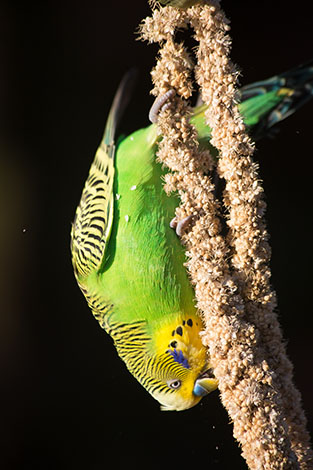 Millet gymnastics
Parakeet Millet Training
Using millet as a lure is a great way of speeding up hand or finger-training for your birds, for getting them out, and back in the cage. It also helps,on the birds early free flight adventure, to have a spray of millet in the cage. At some point during their adventures, your parakeet will get hungry - and, well, who can resist some tasty millet?
Millet is also invaluable when training your parakeet to fly to you or perform other tricks. (See Parakeet Training, below).