Hybrid Chickens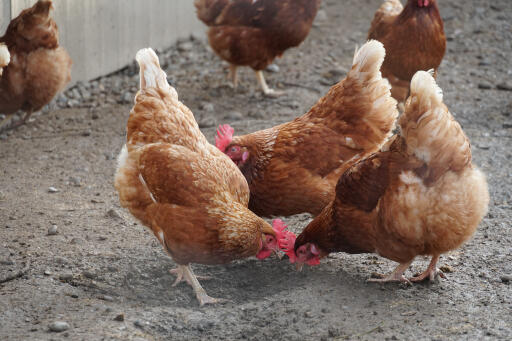 Breed Rating (15 Reviews)
| | |
| --- | --- |
| Appearance | |
| Friendliness | |
| Hardiness | |
| Egg | |
| Garden | |
Hybrid History
Hybrids birds are highly cross bred chickens. Most hybrids are based on the classic Rhode Island Red, Maran, Plymouth Rock, Sussex or Leghorns. The development of hybrid chickens started in the 1950's when there was a hugh growth in the demand for eggs and meat. The most common hybrid is the warren hen which is a classic brown hen. In recent years however there has been a larger variety of hybrids becoming available which have both good egg layer ability and the looks to match.
Hybrid Behaviour
Typically the chickens have been breed to be good egg layers, friendly and docile - rather than having a splendid display feathers common in pure breed hens.
Hybrid Varieties
There are a wide variety of hybrid birds available including Black Rock, Maran Cuivre, Bovans Nera, Calder Ranger, Goldline, Meadowsweet Ranger, White Star, Sussex Star, Bluebelle, Speckedlys, Isa Brown. Many of these varierties are breed by specific poultry suppliers.
Related Products
Hybrid Pictures
Hybrid For Sale
Please note: All chickens listed here are for collection only. They cannot be delivered by the seller or by Omlet. The seller will send you their contact details to arrange payment and collection.
---
Dominique-Easter Egger Hens
Description: Dominique-Easter Egger hybrid hens. I have two for sale. I will take a trade for pure-blooded Dominique or Rhode Island Red hens. No purchase without taking a cockerel or rooster; you choose, for more info, see other ad. $15.00 each.
---
Longcrower cockerel
Description: The age is as near as I can tell. He has a buttercup comb and five toes on one foot, with four toes on the other. His crow is longer than that of my other roosters, about five seconds in length.
---
Easter Egger x ? hen
Description: One hen has Easter egger in her parentage, but has yellow legs as opposed to the typical slate of Easter Eggers, so I'm not certain as to what breed she is. She is a good layer.
---
Latest Reviews For Hybrid (5 of 15)
---