German Rex Cats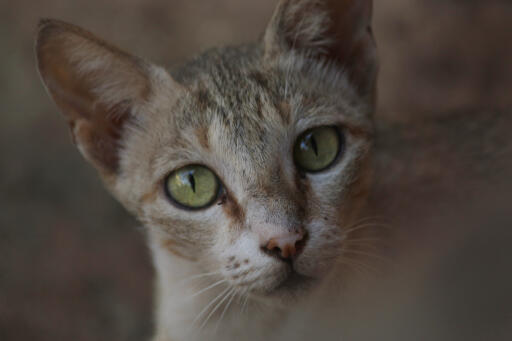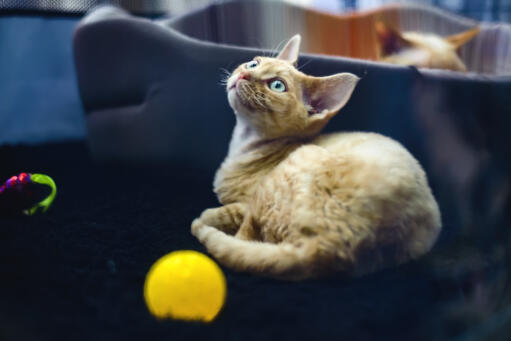 History
---
One of the earliest records of a 'Rex'-type cat comes from 1930 in Kaliningrad, Russia (called Königsberg, part of the German Reich, back then). A cat called Munk, belonging to the Schneider family, spread his genes throughout the local cat population, until his death at the end of the Second World War in 1945. Many of those offspring had distinctive features that we now associate with the various 'Rex' breeds.
Sadly, this story is possibly a dead end, as German Rex researchers no longer consider Munk to be related to the modern German Rex breed. Instead, the German Rex cat story begins in summer 1951, when Berlin doctor Rose Scheuer-Karpin noticed a black, curly-coated cat in the hospital garden. After making enquiries, she was told that the cat had been resident since 1947. The doctor named the cat Lämmchen (German for lambkin, or "little lamb"). Lämmchen became the matriarch of all current German Rex cats.
The first two German Rex cats deliberately bred came from a litter of four produced by Lämmchen in 1957 after being mated with her straight-coated son Fridolin. Fridolin himself had been fathered by a stray black tom called Blackie.
Lämmchen died on December 19, 1964. leaving many Rex and crossbreed descendants. The last of her own offspring had been born in 1962. Most of Lämmchen's offspring were used to improve other breeds such as the Cornish Rex.
In 1968, German Rex lineage hinged on the efforts of the Vom Grund cattery in the German Democratic Republic (East Germany, as it was known before German reunification in 1990). They acquired the last three Rex offspring of Lämmchen not sold abroad. A viable stock was established in West Germany through the efforts of its "von Zeitz" cattery in 1973, and the breed eventually became more widespread.
Behaviour
---
The German Rex shares many personality traits with the Cornish Rex. They are playful, inquisitive and thrive on attention. They will form a close bond with their owners and be grateful of any cuddles on offer.
Varieties
---
All self colors and coat patterns.
Breed Details
---
Status: Rare
Place of Origin: Germany
Rough date of Origin: 1940s
Hair length: Shorthair
Activity Level: High
Vocalness: Medium
Child friendly: Good with children
Intelligence:
Playfullness: Playfull
Grooming Requirements: Once a week
Weight: 2.5 - 4.5kg
Size: Medium
House Cat or Outdoor Cat: Outdoor Cat
Pet Compatibility:
Social Needs:
Latest Reviews For German Rex
---
There are not yet any reviews for this breed. Click
here
to write one.