Ragdoll Cats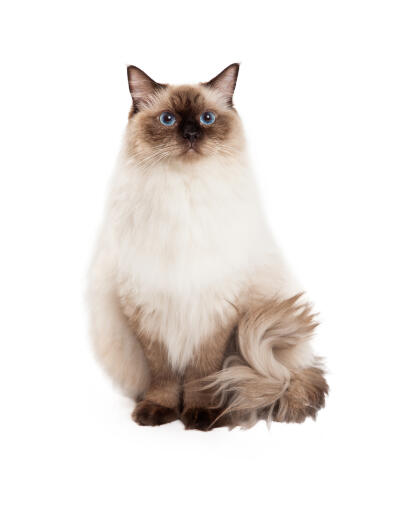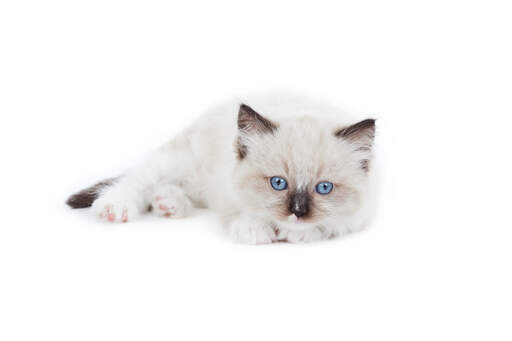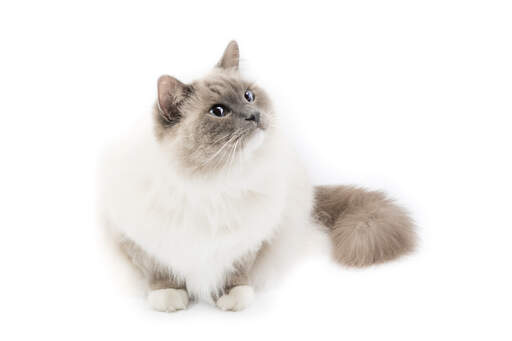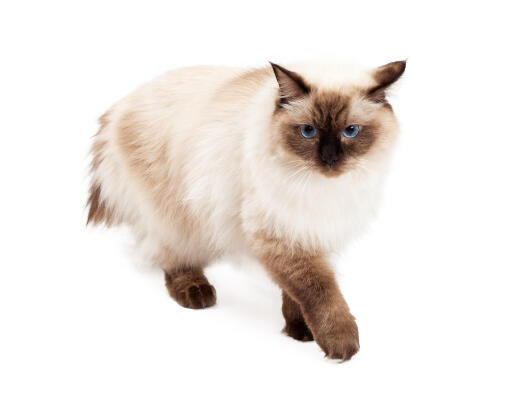 Breed Rating (2 Reviews)
| | |
| --- | --- |
| Appearance | |
| Friendliness | |
| Hardiness | |
| Garden | |
History
---
The Ragdoll breed was created in California in the early 1960s. Breeder Ann Baker owned a female white longhaired cat named Josephine, considered the matriarch of the entire breed.
A solid black cat called Daddy Warbucks was mated with one of Josephine's kittens, Buckwheat, and her half sister Fugiana. The resulting litters form the foundation of the Ragdoll breed.
Drama intervened when Josephine was hit by a car and taken to a medical centre. There, according to Ann Baker, something incredible happened. It is Baker's firm belief that Josephine's genes were altered through these events - a phenomenon known as epigenetics - because every subsequent litter the cat had displayed the soppy, floppy Ragdoll temperament famous today.
Ann too very firm control of her breeding programs. She co-opted a number of breeders who were contracted as part of her franchise. As time went on they found it increasingly difficult to work with Baker, and some began to develop the breed by themselves. Denny and Laura Dayton, for example, had originally worked with Baker but then distanced themselves from her, although they went on to play a key part in fully establishing the Ragdoll as a breed.
Behaviour
---
The Ragdoll is famed for its docile and lap loving temperament. It is as 'floppy as a ragdoll', and that's how it came by that name. Owners have reported that their cats are blissfully happy when the attention is on them. This includes cuddling them, giving them a lap to curl up in, or dressing them up (not something we recommend - they are sentient beings, not toys!)
Varieties
---
Ragdolls come in six different colors: red, seal, chocolate, blue, lilac, and cream. They can also come in four different patterns: lynx (similar to tabby), mitted, bicolor and pointed.
Breed Details
---
Status: Common
Place of Origin: USA
Rough date of Origin: 1960s
Hair length: Longhair
Activity Level: Low
Vocalness: Low
Child friendly: Good with children
Intelligence:
Playfullness: Relaxed
Grooming Requirements: Everyday
Weight: 4.5 - 9.0kg
Size: Large
House Cat or Outdoor Cat: House Cat
Pet Compatibility:
Social Needs:
Ragdoll Pictures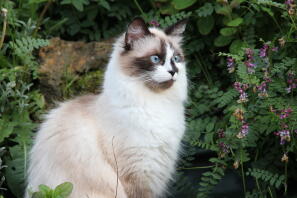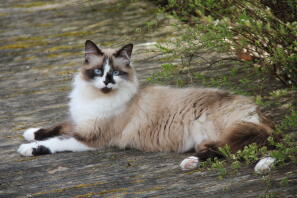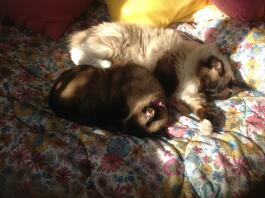 Latest Reviews For Ragdoll (2 of 2)
---
---